Bamboo Fence San Diego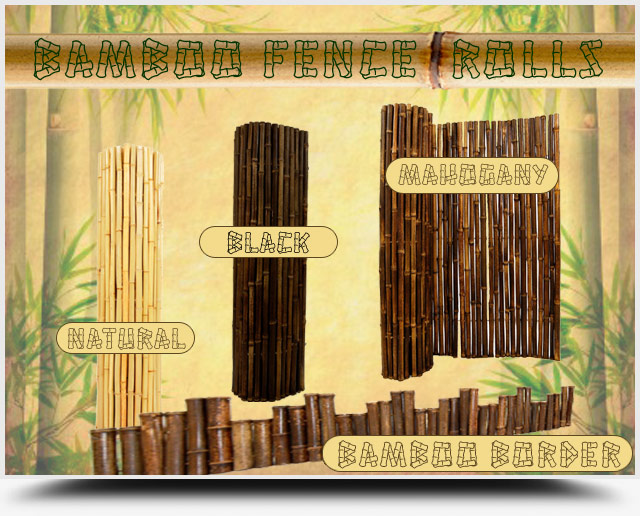 Bamboo Fence San Diego Homeowners Choose For Maintenance Free Fencing
Bamboo fence is economical, lightweight and easy to install. Bamboo does not usually require any maintenance. However in some harsher climates it may be a good idea to add  a coat of varnish once it is installed. If you invest in a good bamboo fence then you can reap the benefits for years to come. Bamboo Fences are extremely durable in all but the harshest climates, water resistant, and again,  low maintenance. The naturally occurring silica in bamboo is a termite barrier free from chemicals.
Bamboo Fence San Diego's Home Owners Choose
Because it's Versatile
Just because it is called "Bamboo Fence, Bamboo Fencing or Bamboo Fence Rolls does not mean it has to be used strictly for fencing. It can be uses for wall paneling, wrapped around the front of BBQ Islands outside or kitchen islands inside. If you are using it to decorate for an occasional Luau type party, don't attach it permanently. That way you can remove it when the party is over, roll it up an put it away for the party.
Bamboo Fence San Diego – Don't Repaint That Wood Fence Ever Again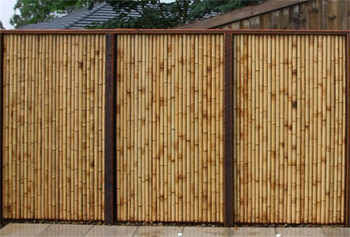 Aren't You Tired of Having to Paint that Wooden Fence Every Year?  OR . . . paying someone to repaint if for you. Why not just cover that shabby looking wood with maintenance free Bamboo Fencing and be done with it?
And if you were at all like most of us guys, we always wondered why it didn't become a real issue with our better half until summer time. Well naturally that is when she is thinking more about entertaining out doors and we understand that but just once it would be nice if she remembered in early spring.
Well surprise her and cover most of  the wood fence with Bamboo Fencing Roll this year and all you will have to paint is the fence posts and top boards. It's definitely a win win situation.
You can build a simple wooden frame and use bamboo fence roll in the body of the frame to shade just one particular area of your patio or shade certain heat sensitive plants in the summer time.
Attach it to the top of your pergola to provide shade or wrap it around the pole uprights to your pergola just as added decoration.
Any place you put a panel up, treat your bamboo fence panel just as you would a wall and decorate it with whatever you want that suits your decor inside or outside.
Bamboo Fence San Diego | And When You Fence or Decorate with Bamboo You're Helping the Environment
As the fastest growing plant in the world, that means it is a completely naturally renewing resource. Bamboo regenerates very quickly and is a friend of the environment. Some sources state that bamboo can grow up to three feet in one day. Our rolled bamboo fencing is a good option as it can bend around corners and be molded into a circular form. As well it conforms well to fencing on heavy grades.
In addition to being naturally strong and durable, our bamboo fencing is connected by rows of heavy-gauge galvanized wire and boasts termite-resistant panels. Whether you're trying to create a general outdoor structure or form a screening barrier, our rolled bamboo fencing will be a welcome addition to your backyard, patio or home interior decor.
If you want your fence to be all Bamboo, you will want to use Bamboo Poles San Diego as your fence posts.