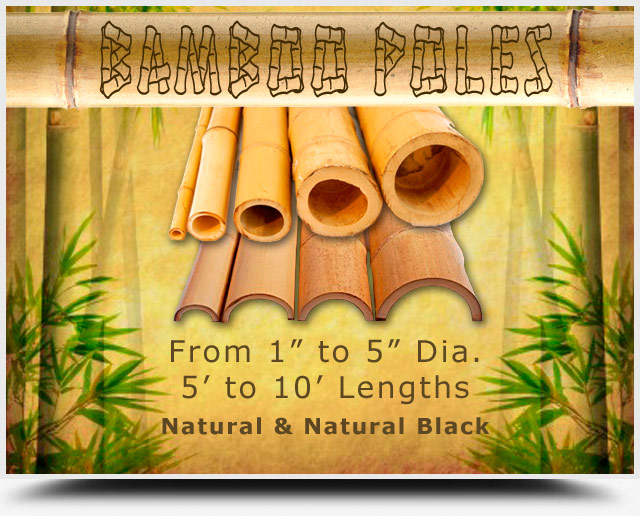 Bamboo Poles San Diego's Homeowners Choose are Tonkin Bamboo
Tonkin Bamboo Poles are Strong and Elegant Bamboo
Our Natural color Bamboo surface has a slight sandy beige patina because it is cleaned by rubbing with river sand. It is always provided dry and fumigated. These bamboo poles can be used indoors or outdoors as a decorative element to create an exotic focal point.
Bamboo Poles San Diego – It Doesn't All have to be About Construction
Basically anything you can build or decorate with wood can be built or decorated using Bamboo.
Bamboo Poles are used in construction world wide. Whether you are going for an Oriental look or Tropical Island feel, you can just let your imagination go wild and amaze yourself at the Bamboo Pole Decoration ideas you will come up with for your San Diego home. and when it comes to Crafts with Bamboo Poles, the potential is endless.
Natural Black bamboo poles can add a sleek, yet tropical feel to your home or to your backyard Tiki bar. Aside from fencing, black bamboo poles can also be used indoors to enhance ceilings or wall coverings. If its a tropical look you're hoping to achieve, then you simply cant go wrong with the addition of bamboo poles to your decor.
Natural Black Bamboo Poles are strong with commercial grade quality. An absolute giant in all respects, these varieties of bamboo are used extensively in construction all over the world and has the tensile strength of steel. Black Bamboo Poles are naturally grown with unique colors varying from black to beige patinas. It's always provided dry and fumigated. They are extremely strong and useful for a variety of purposes.
Complement your black bamboo poles with natural poles or bamboo slats for some contrast and add to that island paradise look.
Many of our customers use the split bamboo poles to cover a full wall, for a unique look. Wedding arches can also be made from our bamboo poles.