The Ease And Efficiency Of BBQ Gas Grills Are Unbeatable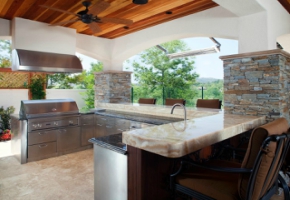 A BBQ gas grills are synonymous with quality and durability. Featuring attractive designs and solid construction, a BBQ gas grills are available as either natural gas or propane gas models. Many backyard BBQ gas grills are stainless steel and have one or more side burners.
Outdoor BBQ gas grills can be used for home or commercial use. Outdoor bbq gas grills will make you want to bbq much more and have big neighborhood cookouts. A recent trend in gas grills is for manufacturers to add an infrared radiant burner to the back of the grill enclosure.BBQ gas grills are easy to set up and, although basic, 2-burner BBQ grills provide you with all the space you would need to do simply grilling.
Propane gas grills usually use a standard 20 lb. tank, which are available at most hardware stores, specialty propane dealers, and also at convenience store/gas station exchanges. Propane grills are sometimes also run off of bulk propane tank systems, but they have to be connected using a Weber bulk LP installation kit (available by calling 1-800-446-1071).

Natural gas grills are connected to a home natural gas system, and the gas is typically provided by a utility company or municipal government.

Both versions of gas grills have their benefits and drawbacks. A propane model can be taken virtually anywhere, but will need to have the tank refilled or exchanged as needed. A natural gas grill will never need to have a tank refilled, but natural gas is not available everywhere.

The benefits and drawbacks I just outlined are the main reason why grill owners sometimes want to convert their grill. They may have a natural gas grill and have now moved to an area where natural gas isn't available. Or, they may have a propane grill and don't want to deal with refilling or exchanging tanks anymore. See more here.
Outdoor BBQ gas grills are just what you need for that annual family reunion, a backyard cookout or any occasion where grilling food is a must.
If you are looking for gas grills, the first thing you should bear in mind is the specific type or model that's going to meet your needs. You need to determine whether you like a propane-powered grill or a natural gas grill. So what are the basic things that you should know about these two grilling appliances so that you can properly choose between the two of them? The most important thing to consider is the advantages and disadvantages of each of the two types.

For a natural gas grill, one of the utmost advantages that you can enjoy from choosing this is its affordable cost. Everyone wants to save money but be sure that you choose a model that's made with durable material so you won't end up with regrets later on. Aside from cheap prices, these types of grills are also cost-efficient because of the type of fuel that they use. In addition, natural gas has cleaner burn leftovers compared to propane-powered models.

A propane-powered grill on the other hand is more expensive. However, if you really love cooking outdoors, then this type is good for you. This is because this type of grill will allow you to have a gas supply that's extended to your backyard area through the help of a licensed gas fitter. Check more here.
One unique factor about gas grills is that they are fitted with different accessories such as the digital oven thermometer, some have 'in-built' light attached to the grill.
If you're in the market for a new barbecue grill, you may be trying to decide whether to go with a gas BBQ or a propane one. The following information will help you with your decision by showing you the pros and cons of each so that you can make an informed decision.

Propane Barbecue Benefits

They're more convenient to use because they're portable. The propane tank can easily be detached and transported as needed with the barbecue.
Propane provides 2500 BTUs (British Thermal Units) per unit volume, which is higher than the 1000 BTUs natural gas provides per same unit size.
Propane is environmentally friendly in that it does not contain lead, creates low greenhouse gas emissions and produces water vapor and carbon dioxide, which are both found naturally in the environment.

Natural Gas Barbecue Benefits

Fuel is automatically provided so you won't run out even during the biggest barbecues.
Natural gas is cheaper than propane at typically 1/6 of the cost of propane.
Natural gas is classified as a greenhouse gas. Propane is not even though it is also an environmentally fuel. Read full article here.
BBQ Gas Grills Can Have A Lot Of Versatility
The advantage when using natural gas grills is the ability to control the temperature in which you are cooking. One of the benefits of gas grills is that there is less time spent waiting for it to heat up and therefore faster cooking times. Another benefit of gas grills is that the heat levels of the burners are easily adjustable.
There are BBQ gas grills are available for use from Spring to Fall as well as picnic tables. Our outdoor BBQ gas grills can handle the demands of commercial use as well residential use. Find out for yourself why Blaze BBQ Gas grills are one of the best grills on the market, contact us here: (888) 556-8121!
Related Articles:
Find the Best Gas Grills Under 200 Dollars For Your Budget
Building A Gas Grill Kitchen In Your Backyard