Wood Burning Fire Pits San Diegans Love
Wood Burning Fire Pits Provide Warmth and the
Nostalgic Ambiance of a Crackling Wood Fire's Dancing Flames
A Wood Burning Fire Pit or Wood Burning Fire Pit Table can turn your backyard living space into a warmer and more cozy outdoor entertainment area.
While it's true a wood burning fire pit or fire pit table are inherently not quite as safe as Propane Gas Fire Pit Tables, with the right construction, materials and spark arresting  steel mesh screens, wood burning fire pits can be near as safe as Gas Fire Pits and still satisfy the yearning for that smoky odor, burning embers and wood crackling as it burns.
Is a Wood-Burning Fire Pit Right for Your San Diego Home?
Know Your Local Laws – Before considering purchasing a Wood Burning Fire Pit for your home's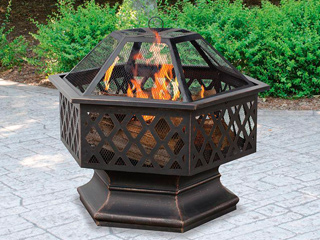 backyard, check to see if your communities regulations or conditions, covenants and restrictions (CC&Rs) or Home Owner's Association allow fire pits. For San Diego County Regulations you can read the Ordinance 9111 and pay specific attention to:
Section 7 – Spark Arresters
Section 13 -Outdoor Fires
Section 14 – Incinerators and Fireplaces
Section 20 – Disposal of Ashes
 For the ECO-Conscious, as long as you're using your fire pit in moderation, your carbon footprint will not be excessive. With a wood burning fire pit, the restrictions of gas lines or outlets are not even a factor.
Placement is Important – you will want to follow the manufacturer's recommendations regarding placement but here are some good rules of thumb:
A wood burning fire pit should never be placed closer than 7 to 10 feet from a structure or foliage like shrubs
Don't place it beneath building eaves, a pergola or overhanging trees or vegetation
Don't place it where wind is channeled or in an area where winds will cause sparks and embers to be blown toward any combustible material
Don't place a Wood Burning Fire Pit too close to your wood storage pile
Other Safety Considerations – Common Sense will tell you most of the following but just in case:
Have a good Class A rating fire extinguisher handy in case of emergency. Make sure all adults and teenagers know where the fire extinguisher is and how to use it.
Don't allow any combustible materials to be within 10 feet of your Fire Pit – That magazine rack next to your lounge chair is a NO NO!
Use a Spark Arrester Guard made of steel screen mesh to cover your fire pit at all times.
Wood Deck Placement and Protecting Your Deck – Metal Wood Burning Fire Pits naturally conduct heat towards the closest surface. The head from your fire pit will discolor your deck wood. If you must place it on your wood deck, be sure to have a heat shield pad on your deck beneath your fire pit.
Check Out The Most Popular Wood Burning Fire Pits Below or
CLICK HERE to SHOP All Models Online