The Beauty Of An Stainless Steel Sink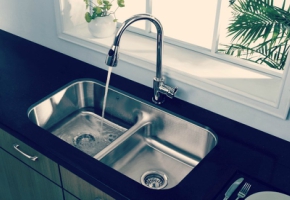 A stainless steel sink is made of a durable material. The main advantage of using stainless steel sink is that it is a recyclable material. With regular attention and care, a stainless steel sink can last a lifetime.
A stainless steel sink is easy to keep clean. The life of your stainless steel sink can be increased with proper (easy! The stainless steel sink can withstand heavy weights and extreme temperatures.Even the cheapest stainless steel sink can be right for you, and as long as it's looked after properly, it can last just as long as any other sink.
It's the most popular sink material in homes and commercial kitchens alike, and for very good reason: stainless steel sinks are durable, low-maintenance, heat- and stain-resistant, affordable, and impervious to chipping and cracking.If you're considering a stainless steel sink, read this guide first to answer all of the questions and clarify the terminology that comes along with these awesome sinks.

Pros and cons of stainless steel sinks

Like every sink material, stainless steel has its advantages and disadvantages.

Pros of stainless steel:

Durable
Easy to maintain
Long life expectancy
Heat- and stain-resistant
Affordable
Does not chip or crack
Antibacterial properties; easy to disinfect. Check more here.
While cleaning the utensils, sinks with thinner steel create more sound, whereas, a thick stainless steel sink will create less noise.
Stainless steel kitchen sinks possess great qualities that make them a good choice for just about any kitchen. Their look is timeless and complements other stainless appliances. They can be rugged and durable but quality construction is important in obtaining longevity and satisfactory performance.
Before running out to buy one of these sinks there are points to consider about the type of steel used in its construction, it's thickness and other important design features.

Other considerations include the type of finish the sink has since there are several to choose from, and the overall style and configuration that you want. Finally, it helps to understand the care and maintenance that's involved with a stainless sink, particularly if you're someone who cares a lot about how your sink will look over time.

What To Know & How To Choose A Stainless Steel Sink

Stainless Steel – What It Is
Stainless steel in its simplest terms is steel that has been alloyed or "combined with" other elements that give it more beneficial properties than it would otherwise have on its own.
stainless steel sink Two of these important elements that you'll see (or should see) on specs for these sinks are chromium and nickel. They enhance the quality of the steel, giving it strength and corrosion resistance. Read more here.
A stainless steel sink will last 15 to 30 years, while a porcelain one will last 25 to 30 years or much longer, with the cast iron core sinks lasting longer than the steel ones.
While sinks top the list as the most-used item in your kitchen and bathroom, what do you reallyknow about them? Which materials are the most stain- or scratch-resistant for bathrooms? Which kitchen sinks perform better when handling the abuse of hot pans or pots coming straight from your stove? Which sinks will resist chipping? Not all sinks are created equal.

Style

Because of the variety of stainless steel sink sizes, styles, and finishes, it is easy to find the perfect fit for your kitchen or bathroom. Not only are stainless steel sinks attractive and durable, but many feature styles without rims or seams, providing a modern, sleek appearance that complements popular commercial-style appliances, cabinetry, and counter finishes.

Hygiene

The number one advantage of stainless steel sinks is that they are cleaner and more hygienic than other types of sinks. Seamless sinks (like stainless steel) eliminate cracks and crevices likely to harbor grime or bacteria and help keep crumbs at bay. Under-mounted stainless steel sinks are appealing to homeowners because they provide a beautiful, seamless, easy-to-clean transition between the sink and countertop. See full article here.
Stainless Steel Sink Will Last Through Many BBQ Seasons
A stainless steel sink will go with anything and will last you many, many years and does not have to cost a lot of money. The care and cleaning of your stainless steel sink will help to ensure that your stainless steel sink will provide you with many years of service. A removable drainer and a chopping board cover for the stainless steel sink do help.
A stainless steel sink will give you a lifetime of beauty and performance, so explore our selection and find the stainless steel sink that's just right for you. Have an everyday cleaning routine in place for maximum cleanliness and to prevent the accumulation of dirt. If you wanted to have quartz countertops and under-mount stainless steel sink have been installed, as well as the faucet, contact us here: (888) 556-8121.
Related Articles:
Outdoor Fireplaces and Fire Pits Bring a Warm Relaxing Feeling To Your Backyard Patio Area
Quality Gas Fire Pits Burners for Outdoor and Indoor Use