It's TIKI San Diego for Outdoor Decor
Tiki San Diego | What's Up with All the
TIKI Outdoor Decorations?
Conveying that Island Paradise Getaway Feeling is what it's All About.
In ancient mythic Hawaii, from fire spewing volcanoes too powerful crashing surf, ancient Hawaiians filled their amazing land and history with tiki gods. Wood and Stone carved "Tiki gods" were placed outside their businesses in the 40's, like the bars frequented by U.S. service men.
Tiki culture in the U.S. began as a fad when soldiers returning from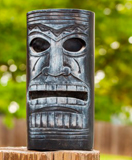 the Pacific Islands after World War II brought back a little bit of Polynesian culture with them to reminisce about thier time in the islands. They remembered places and feelings where they would take their R&R, many of which were what we now call Tiki Bars. It wasn't long before "tiki bars" decorated with bamboo furniture, carved wooden masks and signs or Palm thatched roof Tiki Bars and Tiki Huts began popping up in backyards all over the country.
It's TIKI San Diego | Tiki is back in vogue again and you can re-create a bit of the carefree tiki culture feel in your own backyard by adding a few Polynesian-inspired accents such as signs or go all out with a Tiki Hut. Tiki Themes still remind modern day folks of the South Pacific Island Getaways they have visited on vacation or places they wish they had vacationed.
---
Tiki San Diego | Tiki Hut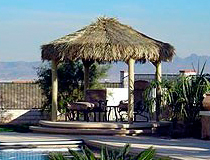 The Perfect Setting for Your Tiki Bar . . . What else but a Tiki Hut? Of course you can put anything you want in your
Tiki Hut
; A bamboo dinette and chairs, a couple of chaise lounges, bamboo couch chairs and tables, what ever your idea of making your Tiki Hut into your little island getaway.
Our Tiki Hut is available as a 12 foot or 14 foot diameter Mexican Palm Thatch Roof with 4 poles
.
ORDER HERE