Tiki Hut San Diego | Fun Out of the Sun
San Diego is Known for its Beautiful Weather
But our Sun can be Intense
If you picture a nice spring or summer day with a slight breeze and think to yourself, "I would really like to sit outside and enjoy this wonderful weather. but the sun is kind of intense", a Tiki Hut will allow you the best of both worlds.
A Tiki Hut is a sort of and open air pavilion structure with a palm thatch roof, (Known as a Palapa), standing on 3 to 4 substantial poles. These can be found everywhere in the South Pacific Islands but in the continental U.S. you will find them not only in beach parks, but in gardens, vineyards and in backyard landscapes.
Tiki huts provide a shelter from the sun while still allowing you, your family and guests to enjoy the feeling of actually being outdoors.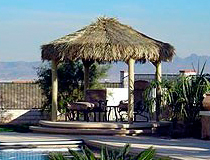 The Perfect Setting for Your Tiki Bar . . . What else but a Tiki Hut? Of course you can put anything you want in your
Tiki Hut
; A bamboo dinette and chairs, a couple of chaise lounges, bamboo couch chairs and tables, what ever your idea of making your Tiki Hut into your little island getaway.
Our Tiki Hut is available as a 12 foot or 14 foot diameter Mexican Palm Thatch Roof with 4 poles
.
ORDER HERE